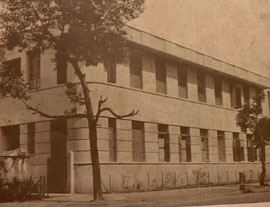 Two Storied Seva Pratishthan Building in 1939 This institution, a branch centre of the Ramakrishna Mission, was founded by Revered Swami Dayanandaji Maharaj, a disciple of the Holy Mother Sri Sarada Devi in its former name of "Ramakrishna Mission Sishumangal Pratishthan" in a rented house in July 1932 with an initial financial help from an American devotee Miss Helen Rubel (Sister Bhakti). Domiciliary Maternity Service and Outdoor Antenetal and Postnatal clinic were started first, and a year later, the Indoor section with 7 beds for mothers and 9 beds for babies was added. Later, on a small plot of land purchased at 99, Lansdowne Road (now Sarat Bose Road) foundation stone of a permanent hospital building was laid on March 4, 1938 by the Most Revered Srimat Swami Vijnananandaji Maharaj, a direct disciple of Bhagavan Sri Ramakrishna and the fourth President of the Ramakrishna Math and Ramakrishna Mission, which was completed as a 50-bed maternity hospital and consecrated on May 31, 1939 by Revered Srimat Swami Virajanandaji Maharaj, the sixth President of the Ramakrishna Math and Ramakrishna Mission. 'Sishumangal' thus found a new home of its own and gained wide recognition as a model maternity and child welfare centre.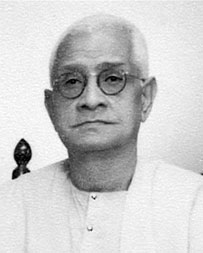 Swami Dayananda-The Founder Swami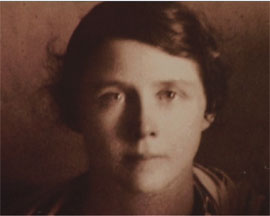 Miss Helen Rubel (Sister Bhakti)
In 1957, its Silver Jubilee Year, Sishumangal was renamed "Seva Pratishthan" following the addition of some general beds for men, women and children in 1956. Additional construction followed in phases and bed - strength also rose from time to time and reached 550 in 1985.
The construction of the building of Vivekananda Institute of Medical Sciences was started in 1977 with a kind and generous donation from Shri Nandlal Tantia and done upto 2nd floor by 1982. The research centre housed in it was named "Rameshwar Tantia Research Centre". More funds were collected gradually and upto 4th floor construction was completed in 1995-96.
Another newly constructed building had been completed in July 2007 and inaugurated by Most Revered Srimat Swami Gahananandaji Maharaj, the then President of Ramakrishna Math and Ramakrishna Mission on the occasion of the Platinum Jubilee of this Pratishthan.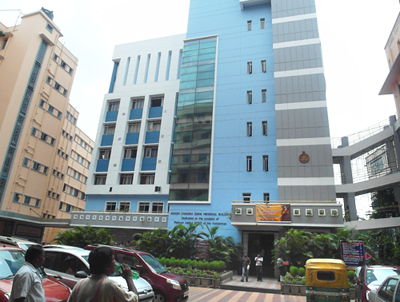 Platinum Jubilee BuildingOn the occasion of the celebration of the 150th Birth Anniversary of Swami Vivekananda, a new project was taken in hand. It consisted of 1) Construction of A Diagnostic Centre Building; & 2) A fully-equipped Cath. Lab., Cardiac Care Unit, High Dependency Unit & Cardiothoracic Vascular Surgery Unit. The entire project was named as "Swami Vivekananda Diagnostic & Cardiac Care Centre" and was being done with the financial assistance from the Ministry of Culture, Government of India.
With addition of the abovementioned units, the following operations/investigations are being done in this Pratishthan successfully at a low cost compared to other non-Govt. institutions in the State of West Bengal :-
Coronary Angiography, Coronary Angioplasty, Single & Double Chamber Pacemaker implantation, ASD Closure, Mitral Valve Replacement, Aortic Valve Replacement & Double Valve Replacement.
A new Cardiology Ward in the 5th Floor of Adhish Chandra Sinha Building has been inaugurated on 03-03-2019 by Srimat Swami Vimalatmanandaji Maharaj, Trustee, Ramakrishna Math, Member, Governing Body of Ramakrishna Mission and Adhyaksha, Ramakrishna Math, Yogodyan. The 38-bed ward has general beds and Cabin facilities for male, female and paediatric cardiology patients with an attached High Dependency Unit (HDU). The bed strength rose to 684 in June 2020.